Tuesday, November 30th, 2004
---
11:48 pm
- HOW FREAKIN CUTE IS THIS PICTURE?!
Thursday, November 25th, 2004
---
9:22 am
Happy thanksgiving everyone! I hope all of yall are having a wonderful break! Its been awesome to see alot of yall again, and I'm very thankful for everyone of yall....Ill update more later... i'm just too tired.... you really just cant sleep in when you're sharing a room with a 4 year old....i forgot how freakin early i used to get up. Anyway, pimp out turkey day yall, make it awesome!
Monday, November 22nd, 2004
---
6:07 pm
- La Bor-dem
5:41 am
all nighters suck

current mood:
blah
Sunday, November 21st, 2004
---
9:31 pm
- ITS FINALLY DONE!
The Soundtrack to Your Life Make a soundtrack for your life, matching songs with the following:



Opening song: Welcome to the Jungle- Guns and Roses



Waking up: Who Needs Shelter-Jason Mraz



Best Friends: Milkshake-Kelis It shoudl be malt shake instead though



First date: No one needs to know-Shania Twain ( my first date was supposed to be a secret, but it wasnt, parents found out and got PIIISSSSEED)



First kiss: If this is it-Huey Lewis (first kiss was terrible)



Falling in love: Somebody like you-Keith Urban



Seeing an old love: One More Day-Diamond Rio



Heartbreak: Hm where do i begin with this one.. there are so many....Absolutley Zero-Mraz, Nobody's Crying-Patty Griffin ( download that song noooow), One Moment More, Hurricane-Mindy Smith



Favorite Birthday:Um cant think of a song for when i turned 18 it was the halloween/bday party



Driving fast: What about me-Keith Urban, here I go again on my own-whitesnake



Home: 100% Texan-Kevin fowler



Getting ready to go out: Daturday Night Divas-Spice Girls (dont hate)



Partying with friends: Not Fade Away-Two Tons of Steel



Being Drunk: Hm.. cant remember, maybe cuz i was drunk



Dancing at a club: T is for Texas-Two tons of steel




Graduation: Closing time-Semisonic



Moving Away: So hard to say goodbye-Boyz II Men ( so what, i'm not original)



Work:Take this job and shove it-Johnny Paycheck



Walking alone in the rain: Rain-Patty Griffin



Missing someone: Usless Desires-Patty Griffin



Summer vacation: Summertime-Janis Joplin


Fighting with someone: Rockstar-N.E.R.D.



Acting goofy with friends: Wannabe-Spice Girls



Thinking back: Grace is gone-DMB



Feeling depressed: Better-Jason Mraz



Christmas time: O holy Night



Falling asleep: The long day is over-Norah Jones



Closing song: The Last Stop-DMB

current mood:
contemplative
1:42 am
- I JUST WANT TO GET TIRED!
Time: 1:03 AM




About You




1. First Name: Tamara
2. Middle Name: Shayne
3. Do you like your name?: Yeah, cuz its cooler than yours
4. Nicknames: T, Teapot, T-Wrex, Sexy goddess of the world, you know the norm
5. Age:19
6. Birthday:Oct 14th, 1985




7. Where do you live?: San Marcos/San Antonio




8. Do you like it where you live?: Its alright I guess




9. Where were you born?: Pasadena, Texas




10. Height: 5'4 on a good day




11. Do you wish you were a different height?: Nah, I sometimes wish i was taller, but, being short has its advantages too




Faveorites




12. Food: Chinese food




13. Number: 2




14. Date: April 28th, no clue, has been since like 4th grade




15. Day of the Week: Saturday




16. Day of the Year: July 4th




17. Candy: Nerds baby




18. Ice Cream: Phish Food or Cool Britannica




19. Place to shop: Express or Gadzooks




20. Place to shop for clothes: See Above




21. Song: #41-DMB... anyone who knows me should know that




22. Movie: Jurassic Park and Old school (THANKS MANDY!!)




23. Band/Group: Dave matthes band




24. Sport: Hockey or Football




25. Subject in School: Used to be history... but Id have to sayyyyyy school is retarded




26. Holiday: July 4th




27. Color: White




28. Color of clothes to wear: Black or White




29. Type of clothes to wear: Clean, Simple clothes, patterns are overrated and not needed




30. Shoes: of mine, These creme colored strappy high heels, but they hurt like a mofo though...




31. Fruit: Granny Smith Apple




32. Veggie: Raw Carrots or Fried Okra




33. Animal: Koala (they arent bears bitches)




34. Magazine: Instyle, glamour, or cosmo




35. Game: HELL!




Least Faveorites




36. Food: Liver




37. Number: 69 "hey jordan.. whats 32+37?..... 69 bro!!"




38. Date: Feb 18th




39. Day of the Week: Tuesdays




40. Day of the Year: Finals day




41. Candy: Snickers




42. Ice Cream: Mint Chocolate chip... hate it




43. Place to shop: SAMS... I HATE SAMS




44. Place to shop for clothes: if i hate it then why would i go...




45. Song: insert a ashlee simpson or fefe dobsin song, and then you have my answer




46. Movie: Battlefield earth... hands down the worst movie ever




47. Band/Group: LFO, they deserve to burn in hell




48. Sport: cricket




49. Subject in school: math can suck my cock if i had one




50. Holiday: Thanksgiving




51. Color: Red




52. Color of clothes to wear: Yellow, just because it looks terrible on me




53. Type of clothes to wear: Gray Shorts.. yall know what I mean




54. Shoes: marching shoes




55. Fruit: cantelope




56. Veggie: brusslesprouts... satans favorite veggie




57. Animal: those things that look like sloths, but they have those weird ass flat nose things... what are they called?




58. Magazine: Men's fitness... i dont know




59. Game: Dating






More About You




60. Shoe size: 10




61. Hair color: Blonde




62. Do you or have you ever dyed your hair?: Never have




63. Hair length: A little past my shoulders




64. Most embarrassing moment: Pff, like i will tell you so you can give me hell...




65. Are you getting bored or annoyed yet?: yeah with the stupid spacing of this survey




66. What time is it?: 1:16... 66 questions in 13 minutes bitch




67. What do you want to be when you grow up?: A pimp and hotels are my Ho's




Have you Ever...




68. Hiked a mountain?: Yeah, I go to Texas State, I do it everyday




69. Walked a mile?: see above




70. Really walked a mile in someone elses shoes?: hm, possibly




71. Ate a whole box of oreos?: Fuck yea




72. Been in love?: yes




73. Stayed up all night?: Heck yes I have




74. Broken a bone?: No, *knock on wood*




75. Pulled a muscle?: yes I have




76. Fractured something?: see 74




77. Sprained something?: see 74




78. Watched the show Happy Days?: Yeah, but i'm not a fan




79. Cried because you've missed someone?: Sure have...




80. Had a party?: Hell yeah




81. Been on a boat?: Yeah, the last one I was on I think was either my uncles or in Port A




82. Been on a plane?: Yeah, last time was in 5th grade




83. If you were on a plane, was it scary?: Nah, short ride from dallas to SA




84. Done the chicken dance?: HELL YEAH BABY! Did it at wurstfest this year where i had a FUCKIN BLAST!




85. Been on a train?: Yeah, in the blue ridge mountains... gorgeous




86. Ate so much chocolate and/or candy that you puked?: not recently but yes




87. Had a food fight?: no, but it looks like fun!




88. Jumped on a trampoline?: yeah and almost broke it




89. Played spin the bottle?: nope, cant say i have




90. Been in a fist fight?: With my sister and obviously lost




91. Been in a hospital?: About 3 weeks ago cuz of a car accident




92. Been in a hospital(not to visit someone but as a patient)?: see above




93. Had a falling dream?: you know i dont think so...




94. Been out of the country?: No, but i plan on working out of the country with in the next 7 years




95. Played baseball with a bunch of friends?: Nah, never been one for playin sports...




96. Took a Bubble Bath?: No, they Fuck up my skin, its a shame yes, but oh well




97. Made a web page?: Does my LJ layout count?




98. Been in a car accident?: About 3 weeks ago




99. Driven a Car?: Yep




100. Woo hoo This is 100, how do you feel?: starting to get tired (the whole point of this damn thing)




101. Tried smoking or drugs?: smoked cigars




102. Laughed so Hard that you peed in your pants?: No, but laughed really hard because i almost peed in a trashcan... does that count?




103. Lied? Find me someone who hasnt




104. Fallen asleep in class?: everyday Senior year




105. Played with Barbies?: I didnt play with barbies really, i just made them look badass




This or That




106. Campfire or fireplace?: Depends on whats going on




107. MMs or Skittles?: Skittles




108. MTV or VH1?: Vh1




109. Movies or Music?: Wow... thats really tough, like reeaally tough.. but i'm gonna hve to say music




110. Stay up late or sleep in?: Stay up late




111. Sun or Moon?: Moon




112. How sick are you of this survey?: its okay




113. What Time is it now?: 1:24 am




114. 10 acquaintances or 1 bestfriend?: 1 best friend




115. Short or Tall?: Tall




116. Vanilla or chocolate?: Chocolate




117. Cat or dog?: dog




118. Newspaper or Magazine?: Magazine




119. Is the glass half empty or half full?: Half empty




120. McDonalds or Burger King?: mcdonalds




121. Fish or Mice?: Sugar Gliders




123. Happy or Sad?: Happy... wtf is wrong with you?




124. Serious or funny?: depends on whats going on




125. Happy or sad ending?: happy




126. Scary movie or Funny movie?: Funny




127. Scary movie or sad movie?: i like feelin uncomfortable, so i have to say both! ............




128. Funny movie or a sad movie?: someone is running out of questions




129. Brother or sister?: I wish i had a brother




130. Barbie or Skipper?: Skipper, i could relate to her more because she has bad hair and is flat chested




131. Bikini or one piece?: if i wear a one piece i look like a damn wrestler




132. Snow or rain?: Rain, fuck the cold




133. Candy or Fruit?: Candy, i'm a heifer, what can i say




134. Plane or car?: car




135. Run or walk?: walk




136. Swim or skate?: skate baby! not rollerblade, but skate




137. Pepsi or Coke?: Coke




138. A house in the woods or a house in the City?: house in the city




139. The dark or light?: what, sleeping conditions? beer? you need to clarify for me please




140. Rainy or Sunny?: Rainy when its hot, sunny when its cold




141. Duct tape or scotch tape?: Duct tape wallets are the best




142. sneakers or sandals?: sandals




143. Lions or Tigers?: LOL come on... this one was too easy... I like Ligers the best




144. Mustard or ketchup?: Mustard




145. Rap or Rock?: Rap... I'm from the street yo




146. Party or stay home?: Stay at home like a loser




147. Skates or Bike?: skate




Other Random Stuff




148. How many siblings do you have?: 1




149. Do you like your siblings?: at times




150. Do you have any pets?: Chico, and possible a sugar glider.. what are yalls thoughts on that?




151. Do you like your pets?: yes i love him and all of his gimpness




152. Who is your favorite family member?: I honestly just cant choose one




153. How are you liking this survey?: its pretty dumb, thanks for asking




154. What time is it?: 1:29 am




155. What's the last thing you ate?: Ben And Jerry's ice cream




156. Are you hungry right now?: No, i actually feel sick




157. What would you like to eat right now?: a salad




158. Have you ever went on a diet?: sort of




159. Do you believe in God?: Suuurre do




160. What do you think about Diet Coke?: I think if death tasted like something it would taste like Diet Coke




161. How are you feeling today?: Blah, thanks for asking




When was the last time that you've...




162. Cried?: Two days ago




163. Laughed?: Today




164. Danced?: Today in my room




165. Watched TV?: About 30 minutes ago




166. Hugged someone?: about an hour ago




167. Stayed up past midnight?: i'm doing it right now bitches




168. Jumped on a bed?: 2 days ago




169. Been happy?: Today?




170. Been sad?: Today?




171. Drank bottled water?: Yesterday




172. Went swimming in a lake?: Ummm July somethin when i went with ash, eric and gabe




173. Been to the beach?: June 6th?




174. Hung out with some friends?: Yesterday playa




175. Took a shower?: yesterday




176. Took a bath?: 2 hours ago




177. Went for a walk?: Yesterday




178. Went for a bike ride?: oh lord....7th grade?




179. Played a board game?: No clue




180. Been bored?: Today yo




181. Eaten Birthday cake?: Oct 15th




In your opinion




182. Do fish have feelings too?: Yes they do, do you think nemos dad would have gone through all that trouble if they didnt?




183. What do you think of diet coke?: you're just trying to piss me off arent you?




184. Should ants be kept in ant farms?: ants should be kept dead like they belong




185. What time is it?: 1:34




186. What do you think of black nail polish?: Lindsey likes it on her toes




187. What do you think of pink nail polish?: only on my toes, i hate wearing polish on my nails




188. What do you think of no nail polish?: awesome on m hands




189. What do you think of shopping?: therapy




190. Are people who talk to Animals crazy?: Hell no, and if they are than i'm a nut job




191. Are you a good person?: I think that I am




192. Are you funny?: I have my moments, but most of the time its not on purpose




193. Are mice cute?: watch fivel goes west and try to tell me that they are not




194. Are snakes scary?: Is the sky blue?




195. Does jelly taste good?: What kind of jelly?




196. Is the color black beautiful?: Hell yeah




197. Is black even a color? yes




198. Is pink pretty?: it has its moments




199. What do you feel about the color blue?: i think its overrated, people need to get a more original favorite color like magenta or chartruse




200. Woo hoo This is 200, how do you feel? I feel fine, really there is nothign wrong with me




201. Are you getting sick of the color questions?: bring em on baby




202. How many chocolate chips should a cookie have?: dude! what was it ashley like 23 or something like that?




203. Is Nintendo better than Playstation?: FUCK YES IT IS




204. Is bottled water really better than tap water?: if you live in dallas or west texas yes it is




205. What pizza place has the best pizza?: Picasso's in Dallas




More About You




206. Okay, what's the time right now?: 1:38... its good to know thats finding more out about me




207. How are you feeling right now?: Mentally unstable because youve asked me this 343454 times




208. How many cookies do you think you could eat?: depends on how big they are




209. How many pieces of pizza can you eat?: see above




210. How much chocolate can you eat?: what kind of chocolate, if its white chocolate, i wont eat it




211. What kind of shoes do you wear the most?: flip flops




212. What kind of clothes do you wear the most?: jeans and goodwill tshirts




213. What color are your nails painted right now?: they arent painted




214. What are you listening to?: myself type




215. Do you like ironing your clothes?: yes, i also like giving myself papercuts with manilla envelopes




216. Do you like to read?: I love it




217. Do you like school?: It has its moments of okayness




218. What grade are you in?: Freshman in college




219. What's the best part of the school day?: when its over




220. Why?: cuz its over.....




The Last Section




221. This is the last section of the survey, how do you feel?:




222. Did you like this survey?: no




223. Was it the longest one that you have ever completed?: no, haha bitch




224. Do you like filling these surveys out?: when they arent retarded like this one was




225. What do you want to do now that you are done with this?: go to sleep




226. Any last words?: Yippee Kay yay mother fucker-bruce willis




227. That's nice, but we're still not done: thats what he said




228. How many people did you send this to?: no one




229. How many of those people do you think will send it back to you?: not answering this question down probably




230. Who is most likely to send it back?:




231. Who is least likely to send it back?:




232. Do you care if anyone sends it back?:




233. Do you like the person who sent this to you?:




234. Okay, what's the time now?:




235. So, how long did it take you to finish this?:




236. Was it a waste of your time?:

current mood:
cranky
12:35 am
- Optimism is overrated
I love sleep... ALOT.. But i've been having crazy troubles again with it lately. I went to bed at 7 oclock last night, and even though i got a call around 11 and stayed on the phone till about 2, as soon as I got off, I feel right back to sleep. Then tonight I wanted to go to sleep around 8, and I spent so much time trying to go to sleep. So now here I am trying get myself tired again. My body wants to pass out but as soon as I lay down, it feels like i could run a damn mile... I also forgot how fucked up my dreams get when something screws with my sleep. I could go into my dreams from last night, but I'm sure I'll scare too many of yall. I really want the holidays to get here. I'm ready to start traveling and seeing my family again. Its been too damn long since I've seen any of them, and theres going to be so many new additions to my family this year. Its a shame that my family doesnt live closer, because I would love for yall to see where I come from and meet all the intersting people in my life. You have the cattle raising, rodeo, west texas people on my moms side, and my dads side with the sailing, doctors, city kind of people... sides so differnt its crazy... It can explain why I'm so retarded, im not quite more of one side or the other....You can tell its late because I cant quite stay on topic. I got the sephora christmas catalog today, and I about passed out at all the awesome stuff in it. I picked out what i want the most out of all of them, but they are sold out online, and i'm sure they wont have it at the sephora in SA because they have nothing really...Christmas break needs to get here like whoa. There are soooo many things i'm wanting to do. December 30th i'll be out at Gruene hall for an early new years party thing, and Two Tons of Steel is going to be playing. So if you have ANY sense about you, you will be there as well. As for actual new years, I havent thought of anything yet, but I know that I need have a fuckin blast, or I'll be pizissed, and thats worse than being pissed. Oh yes, quote of the week "MANDY! I miss Brittany!!"...lol, maybe some of yall will get to see what I mean by that. I talked to my friend Eric last night for a while... I think/hope he will be okay out there in New Orleans.. hes been dealt a pretty shitty hand of late, but I think that things will turn out okay, as okay as they can be... but my prayers are with that homie. But back to the holidays, I'm on a mission to have the best time, and I'll need yalls help.. so any suggestions would be great. So with that, i'm going to close up my random as shit entry for the evening and try to fall asleep again...

current mood:
grumpy
Wednesday, November 17th, 2004
---
6:54 pm
- The Dead
I had to read a story in English today that I really never wanted to read again. Its a short story by James Joyce called "The Dead". I read it on my own once after a discussion with Patrick on how much i disliked James Joyce and his work, and he suggested that I read "The Dead" and maybe it would change my mind. Well, I'm not one to just blow off things entirely, so I took his suggestion and read it. The majority of the story wasn't too bad, nothing exciting really. It was well written and representative of its time, but its the last 2 pages or so that really just came as a blow to me. The stories main characters name is Gabe is at a party with his wife Gretta. While they were at the party he sees his wife above on the staircase kind of spaced off. She is listening to a tenor sing a very beautiful song. While he is watching her listens, he realizes how beautiful she is. He starts thinking about how much he loves her, and that he doesnt want to stay at the party much longer, her just wants to be with her right now. They finally leave the party and as each second passes, he wants to be with her more and more. When they arrive at the hotel he watches her as she unwinds, and notices everything from her from the way she turns to the way her hair shines, and then she kisses him. His heart fills his chest because he thinks she is feeling the same way about him right then. But then all of a sudden she burts into tears. He has no idea where any of this comes from. She finally tells him why shes crying, and its because shes remembering her first love. The boy was 17 when she knew him and the memories of him came flooding back when she heard the tenor singing. He would sing the same sweet song to her. He loved her, and she loved him. The boy loved her so much that he came through the rain to see her before she had to move away, and died after he fell ill. With this, Gabe just doesnt know what to do. Has everything she has expressed to him, been for him, or the boy she had loved? This kiss she had given him couldnt have been of gabe, but of the boy she had loved. The reason this story gets me is because you could be giving someone your everything, and think that all the they are giving back to you, but everytime they kiss you, everytime you make love, everytime they think about their children, its being imagined with someone else. It makes me so scared to think that you may imagine and all of your beliefs could be in one person loving you, that there is nothing otherwise to make you think differently, but its not you that they are giving their hearts to. I may seem like i'm taking this way to hard, but just read the story, maybe the last half or so, to really get what I'm trying to say.

current mood:
cynical
Monday, November 8th, 2004
---
10:20 pm
- Juicey Juice
I know its been a while since I've updated, but I finally got my pictures developed from halloween....
This first picture is from the night of Michelle's Halloween party... its a good thing my face is covered because that spray on panty hose stuff did NOT go well...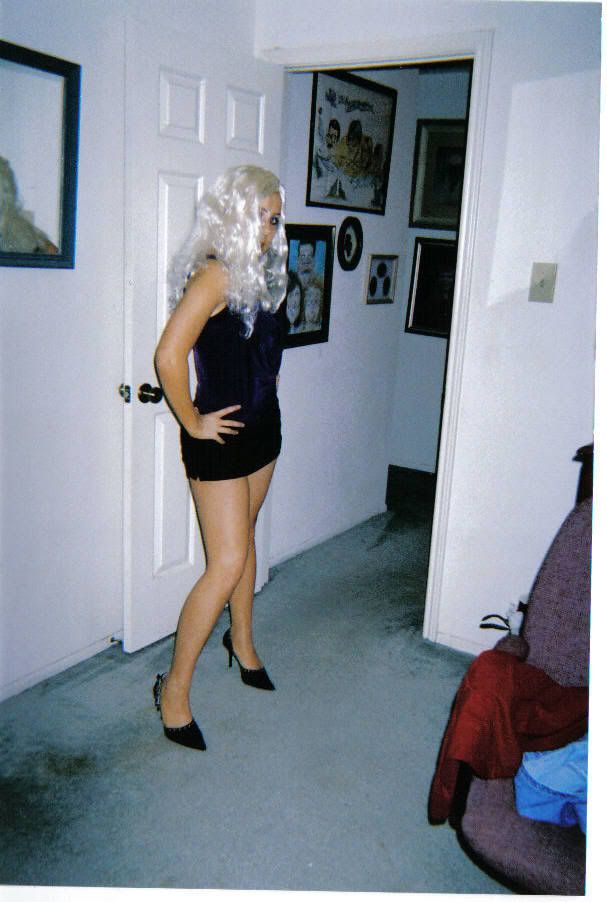 Then the next week, was homecoming.. I decided to ahead and come back, even though i did miss the Bela Fleck concert, but to see everyone was worth it... this first one is of the hottest cymbal girls of ALL TIME, who knew that all of that hotness could be made up in one cymbal line?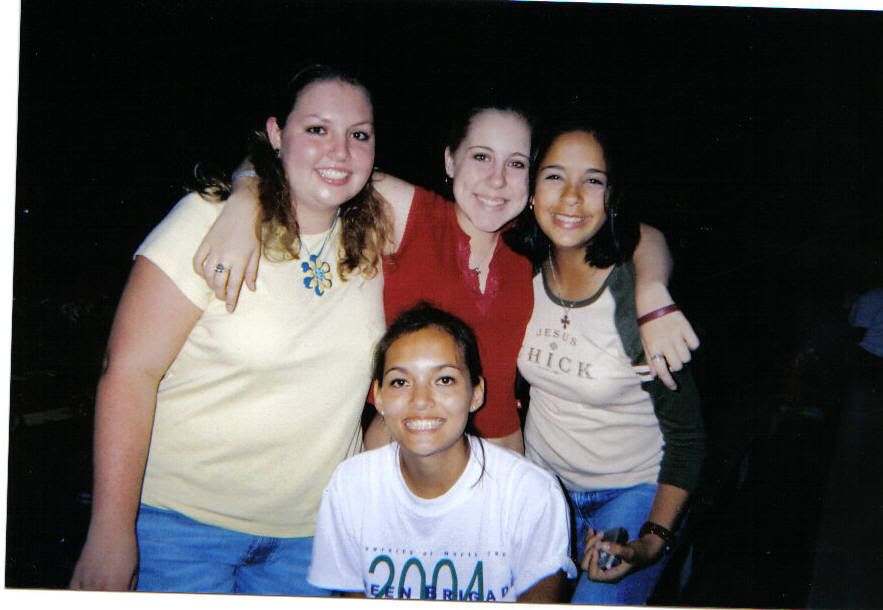 This next is a picture of what has to be one of the greatest events in all of history... the KSS dance... Just look at bryan thrusting the air and ryans beautiful form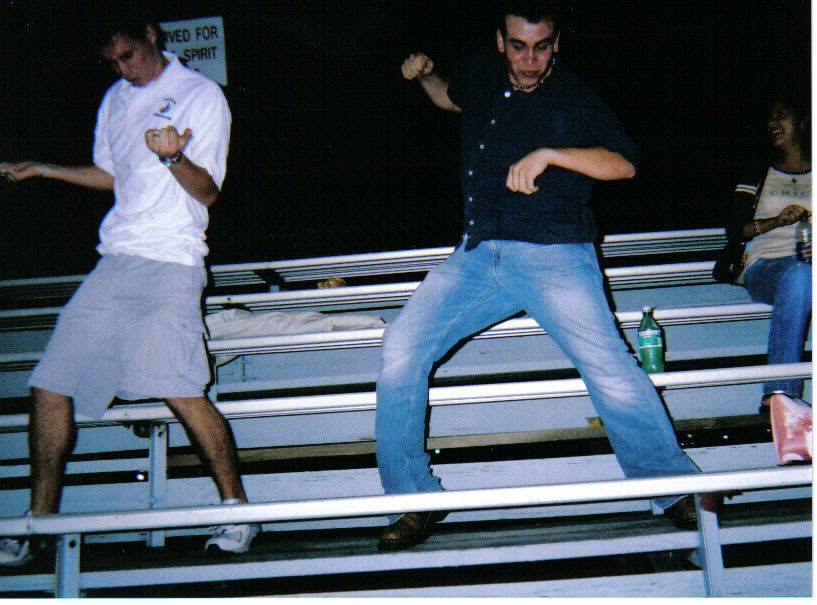 Then on saturday is when I decided to have some real fun. I started out the night at a drag show... Look at "Wynonna work it"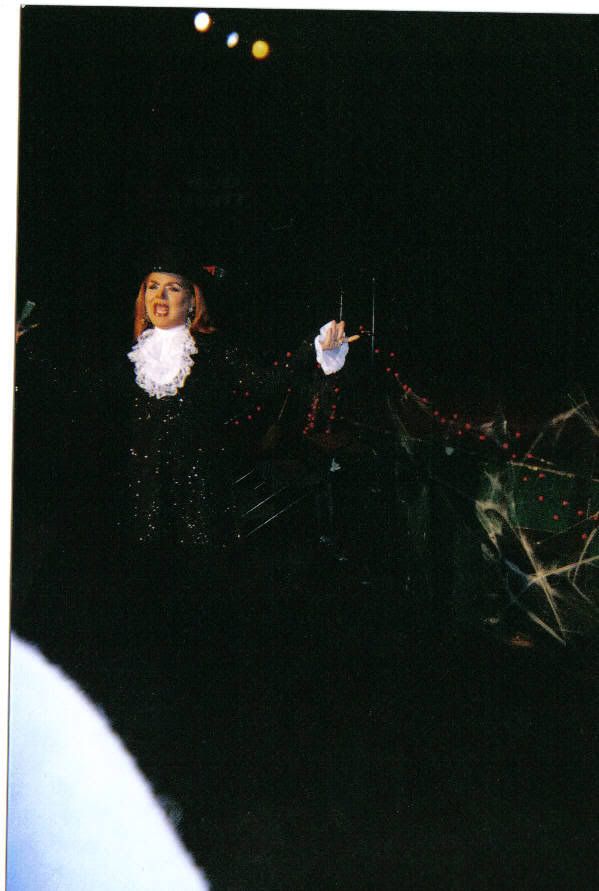 Then I went up to austin to a party with ross and caytie... or shall i say britney spears?




I had such a freakin blast at this party...I met so many cool people, and saw what i have to say has to be one of the best costumes ever... Hes a hooker who just gave birth to a baby.. look careful and you can see... This guy was the life of the party, and was just so damn cool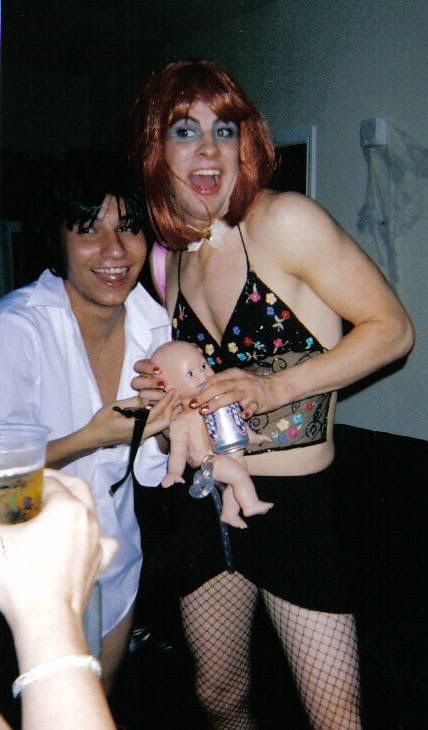 And hey, i also saw tom cruise at the party, so what more could a girl ask for?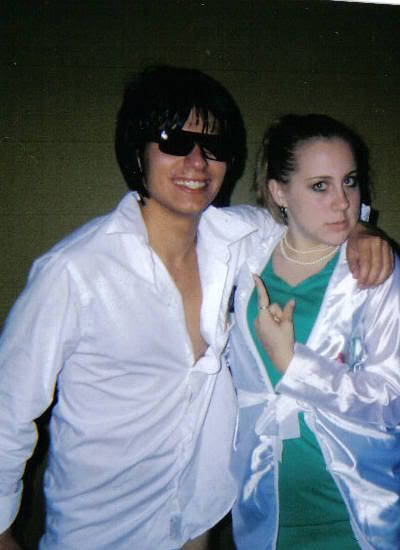 Then this is me towards the end of the night.. I'm lookin a bit disheveld but I'm feeling greeeaat. :-)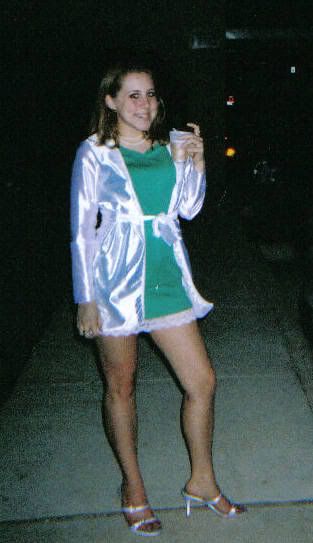 And last but not least, this is an old school picture, but i love it so much. Its got my hetero soul mate and my hot ass date... and look how bad ass my hair is!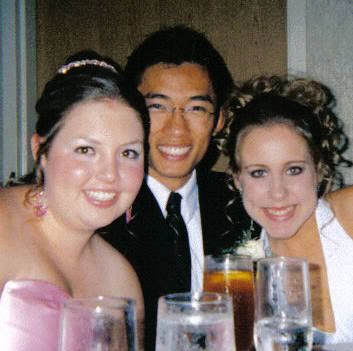 I know this journal isnt too detailed, but i had to share of my lovely times ive been havin

current mood:
hopeful
Thursday, November 4th, 2004
---
3:07 pm
- I've got a thinkin probleeemm
So, today I have to admit has been one of my blonder days.... I sat through an oxygen movie.... yes an movie on the oxygen network, and missed class.... It was probably the most terrible thing I've ever seen in my life, but I missed class anyway. And then, right after the movie was done, I thought to myself oh crap, I'm going to miss my next class if i dont leave in just a few minutes, so I head out of my dorm at 2:20, thinking i have class at 2:30.... but noooo I dont have class till 3:30... so now, here I am with an extra hour on my hands... I didnt want to go back to class, so i thouhgt i might as well come to the library and kill some time. I know i've been needing to update, but I've been waiting to finish up my roll of film from halloween and have a badass entry about that... but the way things are looking it would take a little bit of time for that to happen. You know it really sucks... my social life has FINALLY started to pick up, but when it does, I dont have a car... So i think life offically hates me. I just had major de ja vu again... thats been happening alot... I wish had more to say, but anything i would say wouldnt come out to clear. I've done alot of thinkig lately... made alot of realizations about people, and become slightly resentful. I know its not the healthiest of things, but deep down, i think i'm just a pessimistic person. Have you noticed that when ever someone is told to be strong, it is usually during a period of loneliness? Someone is percieved as strong for getting through a lonely or sad time... so if it happens one time its just like hey, you're a strong person, i know you can get through this, because it happens to you all the time, so you should be used to it. Even though I know thats not really the case that they ment, but, if you really look at it, thats what it boils down to.... See what happens when i watch oxygen and get my time fucked up? I become bitchy... I really wish i was home for the christmas break. There is so much about that Time i love... The smell of the house, how it feels outside, Sarah and i chillin on the 'bridge' by her house... I'm so glad shes comin home. Its like somethings been missing. I've been having whack ass dreams again. Like really really vivid ones... I have a vivid imagination to begin with, so its only magnified when i go to sleep... I really need to start writing them down again and send them over to phil, my magical therapist only he doesnt know hes my magical therapist.. but now you know, but i'll only pay you in love, which i hope is enough! Alright, i think im gonna bust a power nap before history which is 30 minutes away... go teaching theater lobbys.... man i rambled on a bit on this one...

current mood:
pessimistic
Tuesday, November 2nd, 2004
---
10:32 am
HOORAY FOR VOTING! I met a really nice couple today in line... that was fun... I know this isnt much of an update, but I'm wating to get my pictures from halloween developed to have a badass update... but for now, i leave you!

Oh yeah one more thing.

TOLERANCE AND RESPECT.... learn it, it will get you alot farther than you may think you fucking jackass
Monday, October 25th, 2004
---
12:49 pm
- Fuck... yep, thats it, fuck
So, I had a pretty shitty weekend. Friday, I guess the theme was 'hey, lets feel like shit'. So i had an ugly cough and i decided to puke... thats always super fun. So on saturday I decided to sleep it off so i would be able to make it Michelle's later that evening. Let me give you a word of advice. If you want a quick tan and the mystic tans at tanfastic are broken (both the forum AND quarrys were broken... pinch tanfastic) DO NOT use spray on panty hose on any place on your body other than your legs. That was the hardest shit in the world to get off, and after it was all said and done, i didnt look like paris hilton... i just looked fuckin ridiculous. Saturday night there was no phone call, suprise suprise... and i also i found out some EXTREMELY interesting information. Even though its not gonna change anything, and all it does is anger me... what can you do? people will just forever be assholes. Then... then there was sunday. I really dont feel like going into all the details just cuz i'm so tired. Cliff's notes version: driving back to school, get rear ended bad, smacked my head on the seat, blacked out for a milisecond, there for i went to the hospital for like 2q45352343454 hours (yes there is a q in there) to wait for my catscan results, and apparently I have contusion. Which is basically nasty bruises under the skin on my head and neck...yaaaay! So now, I have no car, my neck hurts like hell, i cant sleep.. but hey, i did get a nifty bracelt with my name on it...

current mood:
crappy
Wednesday, October 20th, 2004
---
12:09 am
Tuesday, October 19th, 2004
---
2:39 pm
- Fuck yea!
Thursday, October 14th, 2004
---
11:52 pm
- given another year
Well, its my 19th birthday today. I had been uber excited about it, i'd hoped to make some kick ass plans to go up to austin and just have myself a time, but as Robert Burns so perfectly puts it "In proving foresight may be vain; The best-laid schemes o' mice an 'men
Gang aft agley, An'lea'e us nought but grief an' pain,
For promis'd joy! " (that translates to, you may have the greatest plans, but shit happens to every single one of us, and theres not a damn thing you can do about it.) I went to a funeral today... And even though, its really not the greatest way to spend your birthday, i think with this,i should start my year off with Ben's funeral as an eye opener... For one thing, god's blessed me with so many wonderful people I take for granted every day, and I dont let them know often enough how much they mean to me. It took something like that for me to realize it, and i need to from now on, let them know how thankful I am for them being in my life. Another things is, I need to stop being so fucking scared of things. I have so many things that I havent let go of, so much pain and bitterness that I hold on to that keeps me from really experiencing great things in life. I need to accept the fact that even though I've been hurt and betrayed by so many people my whole life, and that I have to start thinking that there are people out there that wont screw me over in the end. I've got to learn to break down the wall i've built up over the years. Some people dont get these chances to make life how they really want it... i need to start living my life like I dont know how much time i have left. I've made it to another year in my life, but I know that there is so much I've missed out on, and its of my own doing... I just need to take this as a chance to start over in many ways, and be thankful that I'm still here to be able to do this..

current mood:
scared
Tuesday, October 12th, 2004
---
2:51 pm
It's so beautiful outside today, I looovve weather like this. The sky was totally clear, and the temperature is starting to cool down. Even though I would like it if it was a bit cooler, I'll take it. Today hasnt been too bad. I did really crappy on my Fine Arts test, but hey they drop the lowest grade, so I should be fine. I think that its the same case with all of my classes, (i hope anyway). I barely freakin passed my History exam, which had to be the hardest test I've ever taken... But i know the next test I'll ace, because I remember everything we have been over so far.. holla for AP history. And history was actually pretty good today, but that was because there was an Australian guy that came and spoke to us about some tours we can take over the summer... and we all know that australians make everything better... but yes, even though i should try to find something to do outside.. i think a nap is sounding alot better..

current mood:
tired
Monday, October 11th, 2004
---
11:21 am
Sunday, October 10th, 2004
---
11:01 pm
Patty Griffin - Useless Desires Lyrics
Say goodbye to the old street that never cared much for you
anyway
And the different colored doorways you thought would let you in
one day
Goodbye to the old bus stop frozen and waiting
The weekend addition has this town over-rated
You walk across the baseball green
The grass has turned to straw
A flock of birds tries to fly away from where you are
Goodbye, goodbye, goodbye old friend
I can't make you stay
I can't spend another ten years wishing you would anyway

How the sky turns to fire
Against the telephone wire
And even I'm getting tired of useless desires

Everyday I take a bitter pill
It gets me on my way
For the little aches and pains
The ones I have from day to day
To help me think a little less about the things I miss
To help me not to wonder how I ended up like this
Walk down to the railroad track and ride a rusty train
With a million other faces I shoot through the city veins
Goodbye, goodbye, goodbye old friend
You wanted to be free
And somewhere beyond the bitter end is where I wanna be

How the sky turns to fire
Against the telephone wire
And even I'm getting tired of useless desires

Say goodbye to the old building that never tried to know your
name
Goodbye, goodbye, goodbye old friend
You won't be seeing me again
Goodbye to all the window panes shining in the sun
Like diamonds on a winter day
Goodbye, goodbye to everyone

How the sky turns to fire
Against the telephone wire
It burns the last of the day down
And I'm the last one hanging around waiting
On a train track and the train never comes back
And even I'm getting tired of useless desires

current mood:
drained
Wednesday, October 6th, 2004
---
7:50 pm
Tuesday, October 5th, 2004
---
7:26 pm
You wanna know something that really pisses me off? The "Support your troops" ribbons you see on peoples cars now adays. Now, I know you're probably thinking WTF? but i have good reason. I have yet to see a place that sells those ribbons that actually says something along the lines of "a portion of your purchase will be donated to local military families in need" or soemthing similar. People will put these on the cars, but other than that, are they actually doing anything about it? Probably not. I bet if asked someone who had that on their car, and was not part of a military family themselves, they couldnt say they have done a damn thing to support the troops, just support the magnet factory making profits off of people giving their lives for some 'cause' and for their country. Its so easy to donate something to send over in care packages (if you're at TX State, there is a Hygeine product drive going on right now). Its very nice that you have the troops in minds, but other than sticking a magnet on your car.. go and actually do something about it

current mood:
drained